WEBSITE DESIGN
We specialise in creating visually stunning, simple, clean websites that are easy to navigate with clear information and content, tailored to each clients requirements. We make sure all the sites we build are compatable with the latest browsers such as Windows Edge, Internet Explorer, Safari, Opera, Google Chrome, Firefox and others. We upload basic submissions such as keywords, meta tags and descriptions to the main search engines such as Google and Bing.
We can also design your Yola, GoDaddy, Ionis, Wix or other templated site if you wish to go for a templated route, but these sites are limited to creating a unique style. Waterside Graphics have had the pleasure of designing websites for large, medium and small businesses, charities, events, clubs and organisations throughout Hampshire, the UK and various parts of the world.
Please note: Waterside Graphics do not necessarily endorse our clients claims, beliefs or content as laid out on their web site or their printed material.
Please see paragraph 22 on our terms and conditions.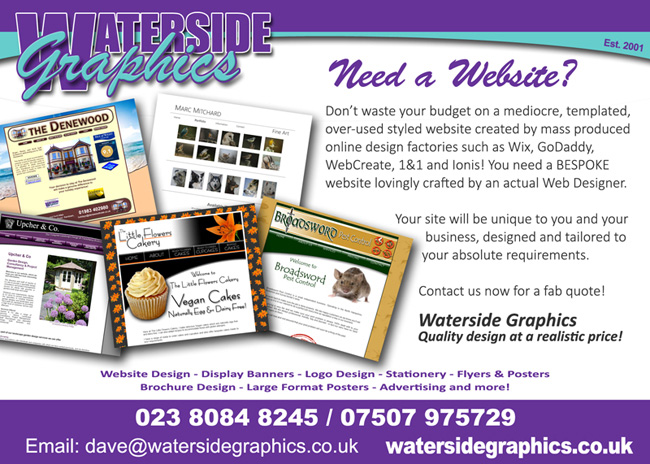 COMMERCIAL DESIGN
Graphic design is all around us! From TV to internet, magazines, films, newspapers, branding, logos, vehicles, display boards and everything else. Good design does not need to be complicated or too flamboyant, but needs to work for the purpose it was created for.
Advertising is important! But you already know that don't you? It is widely regarded by marketing professionals and corporate marketing strategists, that the companies who thrive and survive during the hard times are those that INCREASE their advertising and work on their marketing campaigns. Keeping your name and logo visible and in peoples minds whilst your competitors take a back seat in advertising will always yield great results.
We have many years experience in understanding how the advertising world works. Dave was a Marketing Designer for a large corporate company before starting Waterside Graphics in 2001, and fully understands the necessity of advertising with eye catching designs and clever use of language.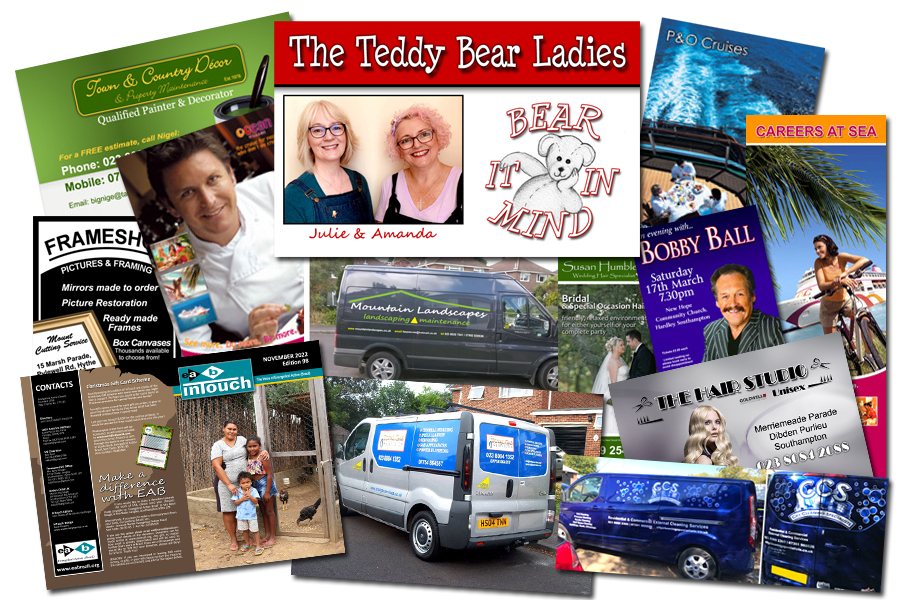 WATERSIDE TRADER
As well as advertising flyers and brochures for local businesses, we also produce a full colour advertising leaflet 'The Waterside Trader' which is delievered quarterly to 8000 Waterside homes covering areas of Hythe, Dibden Purlieu, Butts Ash, Holbury and Blackfield.
To advertise your Waterside based Business, Shop, Event or Service please call Hazel on 023 8084 8245

graphic design ... web design ... brochures ... flyers & posters ... corporate image
logos ... stationery ... advertising ... marketing ... display banners